Intro video for the service
Hi, what's the day today?
To better understand how this works, we created a sample image changing on a daily basis.
Not sure what I mean? What's the day written on the image with the girl? It should be the day today!
If it isn't, you broke it. You break, you buy!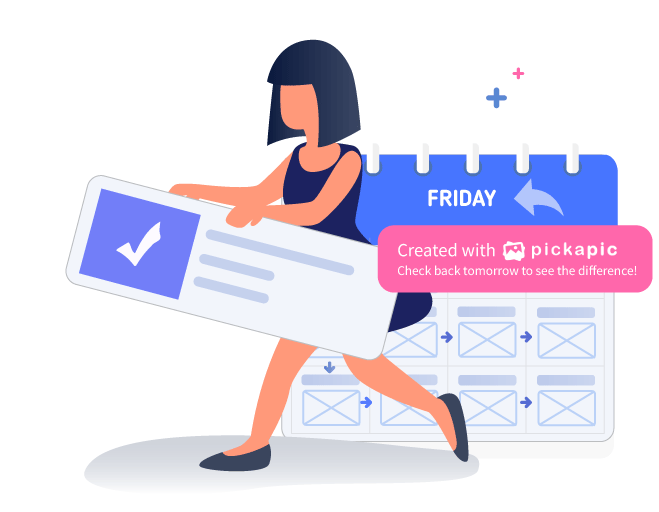 How it works
It's rather simple. We've broken down the process in a few simple steps.
Watch the gif animation below to see how it's done. Alternatively go to the site and try it out yourself.
I dare you to upload a non image file. Try a .txt file to see what happens.
The wireframes
Before anything I made some functional wireframes to see which version we like best because it felt the most easy.
Since there isn't any other tools like this one online, I sort of had to "invent the wheel" from the beginning.
See below which path I decided to follow →
Once the design was finalised (to some extent) the coding process begun.
Usually after the first mockups in Balsamiq, I go ahead and do the high fidelity ones in either Sketch or XD (depending the project). In this case however, I went straight ahead to the coding part.
I'm quite fond of Bootstrap so all of my projects are based on that.
I do like Foundation and Semantic UI too but I can't seem to pick them for anything big. Do old habbits die hard? Or is that saying "if it works, why change it?" actually true?
A tutorial
After the entire thing was built, tested and shipped, it was time to accompany the tool with some explanatory videos.
I did quick research online to see what I could use to create something nice and functional without spending too much time and effort on it.
I considered using After Effects along with a plugin to animate a character but realised that would take too much time and it'd be an overkill of sorts.
While searching I stumbled upon this site called PowToon which seemed nice. So I went ahead and tried it out. See below the results.
How to: Time-based dynamic image
Moreover
With Pick A Pic users can also have create images that change daily forever.
For instance say you have a weekly menu for your restaurant. Mondays soups, Tuesdays pasta etc - you can set up the images once and then stop worrying about it.
Or learn how you can create gifs from still images!
Overall this was a fun project to be involved in. I think it's a useful tool which solves a problem faced by many marketeers.
Check it out! It's free.